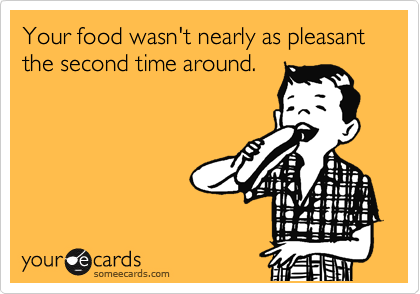 There is just no way to graciously inform someone their food made you puke.
So this has been my week. My boyfriend returned from the States with a little sometime extra in his carry-on bag: the dreaded man-flu! Given a couple of days in our healthy British climate, it promptly mutated into woman-flu and infected me. So we've both been off work feeling rather sorry for ourselves.
My first day home sick, I was feeling bad, but Luke was feeling terrible…and we were out of milk. And basically any other food item in the house besides Remy's dog food—and while that, bizarrely, looks like minestrone stew (there are pasta spirals in it?), neither of us was particularly interested in kibble. So as the slightly-less-lurgified person, I headed out to get Lucozade, orange juice, morphine, and everything else a flu-stricken household needs. (Definitely morphine.) While I was out, I picked up a prepared salad at a store that I won't name because I do actually really like them; it meant I wouldn't have to prepare anything for lunch, and it was a grated carrot salad with some hummus and falafel on top, which seemed vitamin-C-y and generally good for convalescing. I got home and promptly munched away, and it was really nice. I even remember thinking "This really is a simple meal—I should make this for myself again sometime."
Then…I started feeling funny. Then I started feeling more funny, and then I started feeling NOT FUNNY AT ALL, which culminated in me laying on the bathroom floor for about forty minutes (hilariously, Remy followed me upstairs and was like "oh, we're laying down now? OH COOL I'M GOOD AT THAT" and fell asleep on the bathmat) and finally throwing up absolutely everything in my stomach. Keep in mind that I'm already sick—coughing, itchy throat, stuffed-up head—so it was basically an orgy of unremitting misery. I then insisted that we order pizza for dinner, because obviously eating things that are good for me was a terrible mistake.
I told my mother about it, because I was completely trolling for sympathy am a good daughter, and her response was "Have you called the store and told them? Someone with a compromised immune system could get very ill." I made noises about doing it later, and then re-told the whole story to my sister, because I am a good sister was shamelessly trolling for sympathy, and she said the same thing. Then she said apparently food poisoning is one of the most under-reported problems out there, because people go home, are unpleasantly ill, and then basically want to forget it happened, so the restaurant or shop is never informed and they continue serving something that's making people sick. So basically, by not telling the shop in question, I'm potentially killing little old ladies and harming the bottom line of a store who was never given a chance to fix things. Balls.
So I phoned them, and while the guy I spoke to was perfectly pleasant (well, as pleasant as one can be while discussing the intricacies of vomit), it was still one of the more skin-crawlingly awkward phone conversations I've ever had. How on earth do you handle it? I went for the "my social awkwardness is your social awkwardness" approach, and opened with "Um, I feel really silly calling to tell you this, but…" and then explicitly made it about whether they were still selling the same batch of salad, so it wouldn't sound like I was laying the foundation for a lawsuit. (I'm American. People expect me to be fluent in Litigious.)
It goes without saying that I hope I never find myself in this situation again, but if I do…how on earth do you handle it? Just accept that it's going to be awkward? Phone while still in the throes of misery, so my awkwardness will be overwhelmed by my desire to find someone to blame? ("Yooouuuu! YOU MADE THIS SALAD! I HATE YOU!!!!!") Hope that a niche stationer out there has a card for just this occasion? Actually, maybe that's a gap in the market I should attempt to fill…between that, greeting cards for fellow commuters you feel obligated to recognise but don't actually want to be friends with, and "Three beers ago you seemed like a good idea, but let's never speak again," I could make a killing.